Alexander Alberro, Ph.D.
Associate Professor
School of Art and Art History
2007 Awardee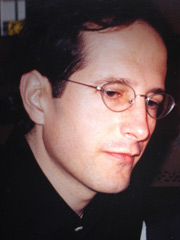 Alexander Alberro's has become one of the foremost scholars of contemporary art. His essays have appeared in a wide array of peer-reviewed journals and museum exhibition catalogues, and he has edited and co-edited a number of volumes with university presses, including Art After Conceptual Art (2006), Museum Highlights (2005), Recording Conceptual Art (2001), Conceptual Art: A Critical Anthology (2000), and Two-Way Mirror Power (1999).
Alberro's first single-authored book, Conceptual Art and the Politics of Publicity (2003), examined the emergence of the art movement that came to be called conceptual art in the 1960s. One of the central arguments of the book is that conceptual art was founded not just by artists but also by the dealer Seth Siegelaub, who curated a number of ground-breaking shows, organized symposia and publications, and in many ways set the stage for another kind of entrepreneur-the star freelance curator of the present day.
Alberro is currently working on another book, Periodizing Contemporary Art, which explores forms of art and spectatorship that have emerged in the past two decades and are referred to as "Contemporary." He is also editing a volume on the artistic practice that has come to be referred to as Institutional Critique.
In 2007 Alberro received a University of Florida Fine Arts Scholarship Enhancement Grant to complete Institutional Critique: A Critical Anthology, and a 2007-08 Howard Foundation Research Fellowship to complete Periodizing Contemporary Art.