Mark A. Atkinson, Ph.D.
Associate Professor of Pathology
College of Medicine
1998 Awardee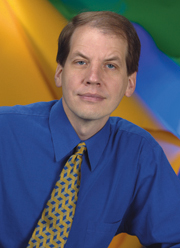 A sincere desire to see that a cure for diabetes is uncovered forms the basis for Mark Atkinson's career. Internationally recognized as one of the outstanding young scientists investigating the pathogenesis of insulin dependent diabetes (IDD), he is equally involved with families of patients with diabetes, in issues of patient advocacy, in updating physicians and other health-care providers on the latest research information, and in fund raising for diabetes research.
The accomplishments of this outstanding young researcher have impacted the direction followed by many other investigators in the pursuit of understanding IDD. Atkinson has made vital observations as to the nature of the pancreatic beta cell self-antigens that are targets of the immune system in the autoimmune destruction that culminates in IDD. His studies identifying an antigen-based immunotherapy that could abrogate beta cell autoimmunity and the mechanisms by which these processes occur have formed the foundation for trials aimed at preventing the disease in humans. More recently, his scientific contributions have led to a plausible hypothesis for the events that are responsible for a chance environmental encounter initiating the sequence of events leading to IDD in individuals genetically predisposed to the disease.
His first peer-reviewed publication, which concerned autoantibodies in predicting diabetes, contained information that today remains at the center of the research community's understanding of these markers. Atkinson also has made a major contribution to understanding the role of diet as a risk factor for IDD.
He is well known for his work on the IDD-associated autoantigen glutamate decarboxylase (GAD). He was the first to report the predictive value of GAD autoantibodies for IDD. He was the first to describe immune activities to the GAD autoantigen in mice and the first to map the cellular immune reactivities to GAD in both mice and humans.
His publication record is outstanding, with more than 70 publications, including 20 in the top five medical impact journals (The Journal of Clinical Investigation, The New England Journal of Medicine, The Lancet, Nature/Nature Medicine). He serves on the editorial board of Diabetes, the most prestigious journal of diabetes research. In addition, he serves on the board of directors for the Juvenile Diabetes Foundation International, Immunology of Diabetes Society and the American Diabetes Association.