James Babanikos, Ph.D.
Associate Professor of Telecommunications
College of Journalism and Communications
2001 Awardee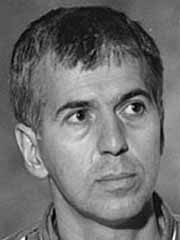 James Babanikos' scholarly and creative talents span the field of telecommunications. Whether he is producing, writing, directing, editing or even running the camera, his skills and originality bring success to his productions and to his scholarship.
Babanikos' productions are as diverse and award-winning as his talents. He excels in documentary, drama and even corporate communication, earning national awards in all three categories. In the past five years, Babanikos has produced two films from each of these three categories, earning him 15 national awards including three first place awards in the National Broadcasting Society's Professional Production Competition.
Although Babanikos has earned recognition for nearly every production in which he has been involved, he tends to focus on drama and documentary, saying he prefers "working on projects that have some kind of social significance."
Babanikos strives to bring creativity to his award-winning productions, including his documentary films C.P. Cavafy: From Ithaca to Tarpon Springs and Color My World: The Arts in Medicine as well as for his dramatic film, Catherine's Story. The latter two films were both financed by PBS and aired on PBS stations in New York, Los Angeles, San Francisco, Chicago and many other markets nationwide.
Babanikos has also received about $150,000 in grants and in-kind contributions.
Babanikos was named the College of Journalism and Communications' Teacher of the Year in 1996-97 and 2000-2001.