Paul Basler, D.M.A.
Associate Professor of Music
College of Fine Arts
2001 Awardee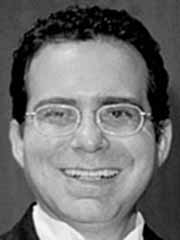 One of the most performed composers of his generation, Paul Basler's work has been described as "virtuosic and athletic" by
The New York Times
. He performed 40 original works for more than 2 million people last year at concerts in England, the Czech Republic, Australia, Canada, Russia, France, Italy, the United States and the Dominican Republic. In 1999, his "Songs of Faith" became the first American work performed in Vietnam since the end of the Vietnam War.
The National Flute Association, the American Choral Directors Association, the International Trombone Society, the Southeastern Horn Society and the Sheboygan Symphony Orchestra have commissioned his compositions. St. Olaf University Wind Ensemble, the Master Chorale of Tampa Bay and the Mid-Columbia Symphony have recorded his compositions.
Basler is resident hornist for the annual Composers Conference in Boston and has performed as guest artist at numerous International Horn Society Workshops. Basler has been a member of the Charleston, Greenville, Asheville, Tallahassee and Gainesville Symphonies, and continues to maintain a busy performing schedule throughout the United States and abroad, having premiered more than 120 works written for him in the past seven years.
One of the youngest persons ever awarded a Senior Fulbright Lectureship, Basler has also served as a Cultural Affairs Specialist for the United States Information Agency and is currently a Visiting Artist in Residence with the Dominican Republic's Ministry of Culture and the National Conservatory of Music.
Basler is supported by nearly $90,000 in grants and awards from the University of Florida, the National Endowment for the Arts, the Dominican Republic Ministry of Culture, the International Horn Society and the United States Information Agency.
Basler received the University of Florida Teacher of the Year Award in 1996.