William C. Calin, Ph.D.
Graduate Research Professor of Romance Languages and Literatures
College of Liberal Arts and Sciences
1998 Awardee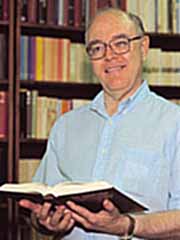 William Calin is described as a superb teacher, an "indefatigable" mentor and adviser and an "unusually engaged professional citizen within the University of Florida and beyond," with a "consummately distinguished" research record in the field of French medieval and contemporary literatures.
He describes himself as "a comparatist and an historian of cultures, with a special commitment to the evolution of literary forms and mental structures and to the continuity of humanism and the great books."
Calin publishes widely and with distinction, as evidenced by his most recent book, The French Tradition and the Literature of Medieval England, being selected by the American Library Association as a Choice Outstanding Academic Book of 1995 (his second book to be so honored). Since 1993 he has published 15 articles in a variety of refereed academic journals and edited collections and has 10 articles in press. Their subject matter ranges from French chansons de geste to Anglo-Norman hagiography, to Renaissance poetry and contemporary fiction in Occitan and Breton languages of France, to issues of canonicity or tracing the intellectual history of noted medievalists.
Calin lectures frequently throughout the United States and Europe, bringing very positive recognition to the University of Florida in humanities academic circles. Last year Dr. Calin was honored with a senior scholar grant from the American Council of Learned Societies to support his research in France and Scotland on his current book project, Minority Literatures and Modernism: Scots, Breton and Ocitan, 1920-1990, a fascinating study that spans three different non-English languages and illuminates the points of divergence and similarity in these seemingly disparate but related cultures. His next book-length project will be a series of essays on great German, Austrian, Swiss, English and North American scholar-critics. Then, he will embark upon a new major project, a sequel to his 1994 book: The French Tradition and the Literature of Medieval and Renaissance Scotland.