Kenneth Campbell, Ph.D.
Professor of Agricultural and Biological Engineering
Institute of Food and Agricultural Sciences
2000 Awardee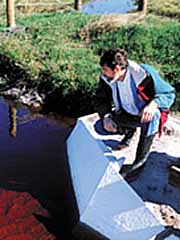 As farmers cultivate the land to produce crops and raise animals, they also expose the water supply to fertilizers, animal wastes and other potential pollutants.
Kenneth Campbell aims to help farmers maintain a delicate balance between practices that optimize farm production and precautions that preserve water quality. His research uses advanced technology to assess and improve the quality of water surrounding Florida's many agricultural areas, where runoff carrying excess nutrients from fertilizers and animal wastes can pollute the environment.
By monitoring nutrient movement in surface runoff and shallow groundwater, Campbell examines the effects of farming practices, predicts water quality using models and develops decision support systems to guide water-quality planning. To create these decision support systems, he combines water-quality models with geographic information systems (GIS), computer systems used for scientific investigation and resource management.
Campbell has made major modifications to three-water quality models -adapting them for use in Florida – and has also developed a simulation/analysis microcomputer software package which helps engineers design stormwater management systems for the state's flat, sandy and high-water-table soils.
During the past 10 years, Campbell's research has garnered more than $4.5 million in grants from organizations such as the U.S. Department of Agriculture, the U.S. Environmental Protection Agency and the South Florida Water Management District. To recognize his success in acquiring external funds, UF honored him with the Research Achievement Award for four consecutive years, from 1988 to 1991. This year he received a Fulbright Scholar Award to support his research in South Africa.
In addition, Campbell has led many professional activities through the American Society of Agricultural Engineers (ASAE). He served as chairman of the ASAE Soil and Water Division from 1992-93, and received the Outstanding Technical Reviewer Award from the society in 1999. He earned the Professorial Excellence Program Award from UF in 1998 and continues to receive international recognition as a leader in his field.