Raghavan Charudattan, Ph.D.
Professor of Plant Pathology
Institute of Food and Agricultural Sciences
2001 Awardee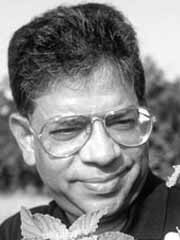 Raghavan "Charu" Charudattan has pioneered a practical alternative to chemical herbicides during his more than 30 years of research at UF on the biological control of weeds.
Charudattan has received nearly $2.5 million in grants. The seven patents he has been awarded have helped to launch the commercial field of bioherbicides, which use plant pathogens to control weeds.
Charudattan has a consistently high level of publications in leading scholarly journals and book chapters in his field and has received numerous prestigious awards from professional societies. He was the founding editor of a highly respected, multi-disciplinary journal, Biological Control. This journal in currently in its eleventh year and has become the leading journal in the field of the biocontrol of pests and diseases in the world.
Charudattan has given talks in 32 countries and has been instrumental in the development of national policies and regulatory decisions adopted by the Environmental Protection Agency, United States Patent Office, the U.S. Department of Agriculture and others.
In addition to his research, Charudattan developed and teaches a 3-credit course on "Microbial Control of Plant Diseases and Weeds." His graduate and postdoctoral students are placed in faculty and research positions in various universities in the U.S., Egypt, Malaysia and Brazil.