Caroline Constant, M.Arch.
Professor of Architecture
College of Architecture
2000 Awardee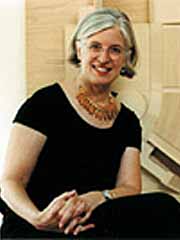 Caroline Constant's research in the relationships among architecture, landscape design and the "decorative arts" during the early 20th century has established her as one of the most respected architectural historians in the field.
In her effort to challenge the traditional disciplinary boundaries of architecture, Constant has produced numerous publications of national and international significance. Most notable are her studies of Eileen Gray, an Anglo-Irish architect and lacquer artist working in Paris during the 1920s, and the Woodland Cemetery in Stockholm.
As a foremost authority on Gray, Constant organized an exhibition of the artist's architecture and furniture designs at the University Gallery in 1994 that showcased analytical models produced by students in a graduate seminar at UF. The exhibition was subsequently featured at the Harvard University Graduate School of Design and Columbia University, and in an expanded format at the Deutsches Architektur-Museum in Frankfurt. Constant co-edited the exhibition catalogue, Eileen Gray: An Architecture for All Senses, which she has complemented with her recent monograph, Eileen Gray (Phaidon, 2000). Both publications are considered the definitive references in the field.
Constant was one of the first scholars to focus on the relationships between western architecture and landscape design during the early 20th century. She explored this theme in her 1994 book, The Woodland Cemetery: Toward a Spiritual Landscape, which had a profound effect, as the publicity surrounding the book's publication was a catalyst for the cemetery's placement on the UNESCO World Heritage List in 1994. The book also received an American Institute of Architects International Book Award in 1995, and has since been heralded by both landscape architects and architects.
Constant has lectured widely on various topics concerning modern architecture and landscape both nationally and abroad. Her research has been supported by numerous grants, including ones awarded by the Graham Foundation for Advanced Studies in the Fine Arts, the American-Scandinavian Foundation, the Swedish Building Council and the Fulbright Commission.