Donald Dickson, Ph.D.
Professor of nematology and Entomology
Institute of Food and Agricultural Sciences
2000 Awardee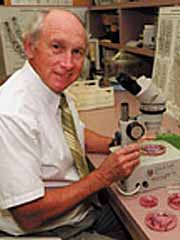 Don Dickson is the most productive and best-known nematologist on the faculty and one of the premier nematologists in the world, says Richard Jones, dean of research for UF's Institute of Food and Agricultural Sciences.
Dickson's current research projects include studying the biological controls of plant-parasitic nematodes (worm-like creatures that attack plants), and seeking alternatives to the use of methyl bromide as a method for nematode control. The federal Environmental Protection Agency has enacted rules that will phase out the use of methyl bromide over the next five years. Dickson's research is critical in promoting the business of Florida's vegetable farmers and in providing information about nematode control in places such as the Disney theme parks.
Dickson's research on finding alternatives to methyl bromide is especially significant to farming practices in Florida, where many farmers use methyl bromide to control nematode parasites in crops such as tomatoes, peppers and strawberries. Dickson's research on this subject has produced much of the available information about legal alternatives to methyl bromide.
In addition to his extensive research on methyl bromide applications, Dickson is working on a biological control program that chiefly involves an endospore-forming bacteria known as Pasteuria. Dickson has compiled significant data on nematode pathogen epidemiology involving Pasteuria. A number of his articles on this subject have appeared in the Journal of Nematology. His findings on the role of Pasteuria in nematode suppression are widely used; recently, the head plant pathologist at EPCOT turned to Dickson for advice on developing programs for nematode suppression using Pasteuria in the Disney theme parks.
In recognition of his outstanding research efforts, Dickson has been honored with a number of awards and invitations to lecture about his research. In October 2000 he spoke at the seventh Arab Congress of Plant Protection in Amman, Jordan. He has received the Ciba Geigy Award for Excellence in Research, the Rhone Poulenc ONTA Award and the Entomology and Nematology Student Organization Advisor of the Year Award.