Abraham G. Hartzema, Ph.D.
Professor of Pharmacy Health Care Administration and the Perry A. Foote Eminent Scholar Chair
College of Pharmacy
2007 Awardee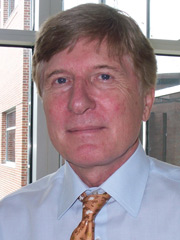 Safe and effective use of drugs has moved to the center of the public's attention. No day passes that a drug safety issue is not highlighted in the media.
Abraham Hartzema has been on the forefront in developing pharmacoepidemiology as a clinical science to better understand the benefit/risk balance of medication therapy. His quantitative laboratory explores drug safety, effectiveness and cost-effectiveness using large databases.
Hartzema is recognized as one of the preeminent international pharmacoepidemiologists and experts in the assessment of the safe use of medications. He has a special interest in drug safety as it relates to small rural hospitals and clinic settings. He also contributes to the fields of risk management, pharmacoeconomics, program evaluation and health services research.
He has recently applied these techniques to sickle cell disease and the use of hydroxyurea, blood transfusions and iron chelation in the prevention of disease complications; the cost-effectiveness of obesity drugs; the evaluation of third line strategic options in the treatment of AIDS; and the complication rates of type-II diabetes.
His new book, Pharmacoepidemiology and Therapeutic Risk Management, co-edited with colleagues from the University of North Carolina Chapel Hill and the Harvard School of Public Health, introduces a new paradigm for managing risk of medications to optimize the benefit/risk balance of selected medications with unfavorable balance but fulfulling a strategic therapeutic need in some patient populations.
Hartzema and colleagues have worked with small rural hospitals throughout the state of Florida to ensure safe medication use processes. This program is in its fifth year with funding from the Florida Department of Health and the federal Agency for Health Care Quality and Research.
"For the next three years, I am interested in exploring data mining tools in early assessment of drug safety. I am also developing a metric for establishing benefit risk ratios for drugs to rationalize prescribing decisions," says Hartzema.