Sally Hutchinson, Ph.D.
Professor of Nursing
College of Nursing
1998 Awardee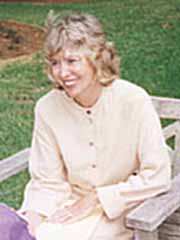 In the course of her extensive interviews with Alzheimer's patients, Sally Hutchinson is constantly reminded of how their frustrations might be eased if only their disease could be diagnosed earlier. "The early stages of Alzheimer's," says Hutchinson, "when people begin to recognize they are losing their memory, are a time of great anxiety and frustration."
Hutchinson's research focuses on developing strategies for helping patients in the early stages of Alzheimer's and their families to deal with their emotions and to take practical steps to plan for when their condition worsens. "If we can diagnose the condition earlier, the patient can do some planning with their families," Hutchinson says. "They can have more of a say over what their life will be like down the road."
In addition to her research with the elderly, Hutchinson is working with UF sociologist William Marsiglio on a project involving young men. She is interviewing young men on topics like dating, sexuality, fatherhood, abortion and contraception to try to identify "turning points" in their attitudes about procreation.
"For example," she says, "we think going through the experience of an abortion with their partner can lead young men to become more careful about using birth control.