Raymond Issa, Ph.D.
Professor of Building Construction
College of Design, Construction and Planning
2001 Awardee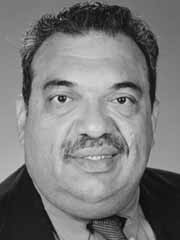 Raymond Issa has laid the foundation for one of the University of Florida's most innovative structures – and it does not contain an ounce of concrete. As an expert in construction management and fire and emergency services in the M.E. Rinker School of Building Construction, Issa has utilized his varied educational background in law, building construction and computer science to create UF's newest distance education degree program.
The Master of Science in International Construction Management (MICM) has been available to all construction professionals since Fall 2000 via the Internet. The idea came about because Issa felt too many students were taking job offers after getting their bachelor's degree because of the booming construction market. As a native of Curacao, he also felt the program should be available internationally.
"We thought that the next best thing would be to deliver graduate education to the working student's desktop. It is oriented to present an international perspective of construction management practices," says Issa. The program does not follow the academic calendar and can be completed from home or office.
MICM is not the only program Issa has developed. He has established a joint degree program with the College of Law and a minor with the Department of Real Estate in the College of Business. He has also developed the Combined Degree Program in which Rinker School undergraduates can begin a master's degree in their senior year.
Having such a varied background has also helped Issa to organize a distance education BS/MS in Fire and Emergency services.
Since his arrival at UF in 1992, Issa has accumulated more than $5.6 million in grants and supervised more than 100 graduate students.
But throughout his various careers, his main goal has always been to help international students adjust.
"He works tirelessly on their behalf to insure they are well-situated and acclimated to life both in Florida and at the University of Florida, in addition to mentoring them in their academic life," a colleague says.
"My place of birth has definitely given me a global perspective on life," Issa says.