Elizabeth Lada, Ph.D.
Professor of Astronomy
College of Liberal Arts and Sciences
2002 Awardee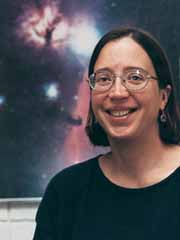 Elizabeth Lada studies the formation and evolution of young stars and their potential to support planetary systems.
Results from Lada's earlier work have shown that most stars in our galaxy form in dense clusters of stars rather than in relative isolation. The extent to which such a dense environment will alter the formation and evolution of the stars and their subsequent planetary systems is unknown and is the focus of Lada's current research.
Among Lada's many accomplishments has been a $500,000 Presidential Early Career Award for Scientists and Engineers, the highest award bestowed by the United States government on scientists and engineers in the early stages of their careers.
With the presidential funding, Lada is studying whether circumstellar disks in dense clusters have large enough masses and live long enough to form planets. Lada and her students pioneered the first extensive and systematic survey of young stellar clusters. As a result, they have shown that nearly 100 percent of young stars form with circumstellar disks that could potentially form planets.
In 1999-2000, Lada was the David Williams Term Professor in the College of Liberal Arts and Sciences. The American Astronomical Society and the American Association of University Women have recognized Lada with the Annie Jump Cannon Award for her distinguished contributions to astronomy.