Lyrissa Lidsky, Ph.D.
Professor of Law
Frederic G. Levin College of Law
2001 Awardee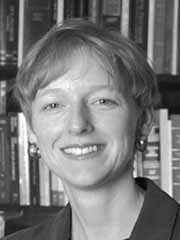 Lyrissa Barnett Lidsky has distinguished herself in the field of defamation, privacy and First Amendment law, focusing most recently on the use of defamation lawsuits to attack anonymous postings in cyberspace.
Lidsky's article "Silencing John Doe: Defamation and Discourse in Cyberspace" discussed the rise of a new class of defamation actions brought by companies and their CEOs against people critical of them on Internet financial message boards. Since the publication of this article, the number of defamation actions against anonymous posters has increased dramatically and judges have been struggling with some of the issues she raised.
The article was cited in two important court decisions regarding defamation and freedom of speech law. It prompted Lidsky to write a follow up article "Cybergossip or Securities Fraud?: A First Amendment Guide to Drawing the Line," in which she and her co-author, Michael Pike, extend what she has learned defending several Doe defendants to provide more practical guidance for courts and the Securities and Exchange Commission in applying First Amendment principles to the Internet. This short article is a precursor to a more extended discussion of the same topic, which she and her co-author hopes to publish in 2002.
Lidsky also co-authoring a book with Richard G. Wright on freedom of the press under the First Amendment for inclusion in a 39-volume reference series on the United States Constitution. And she has been invited to write an article for a symposium in the Wake Forest Law Review in 2002 titled "When Life Imitates Art: Incitement and the Media." The article will deal with incitements to violence on the Internet.
The College of Law Teacher of the Year in 1996-1997, Lidsky is a member of the college's Faculty Development and Professionalism committees. She serves as an advisor for the Law Association of Women and on thesis committees for the College of Journalism and Communications.