Harry S. Nick, Ph.D.
Professor of Neuroscience
College of Medicine
2002 Awardee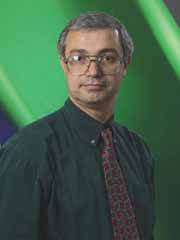 Harry Nick's research centers on an enzyme that holds the potential to counteract inflammation in diseased lung cells. The enzyme Nick studies – manganese superoxide dismutase – is a cell's primary defense against the harmful effects of free radicals, fragments of oxygen molecules that are known to damage cells.
"A number of diseases, such as asthma, are characterized by an acute inflammatory response in the lung. We're studying how the gene is regulated in an effort to find a mechanism to turn it on, because when you make more of this enzyme, it's protective against inflammation," says Nick. "Someday we may be able to protect these patients by overexpressing this enzyme or by activating the gene with a drug."
Nick's research has been continuously funded since he arrived at the University of Florida in 1985. He is currently the principal investigator on two large National Institutes of Health grants, one of which has generated more than $10 million in support over the last 15 years. He also is principal investigator on a major component of a $10 million Juvenile Diabetes Foundation grant. In 1998, Nick was awarded the William F. White Career Investigator Award from the American Lung Association.
Nick has had more than 75 articles in the most prestigious journals of his field, has authored several book chapters and been invited to speak at numerous national and international symposia. He also has been awarded two patents for his discoveries, with two more patent applications currently in review.