Carl J. Pepine, M.D.
Professor and Chief of Cardiovascular Medicine
College of Medicine
1999 Awardee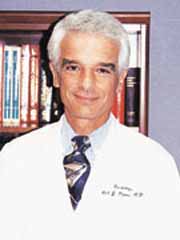 Dr. Carl Pepine is a nationally recognized leader in cardiovascular research and education programs. His interests focus on developing and evaluating new and traditional therapies for ischemic heart disease, hypertension and heart failure as well as assessing the physiology of heart disease in women.
His major focus in recent years has been the development of clinical trials to address important questions relating to optimal management of patients with coronary artery disease, the most frequent cause of morbidity and mortality in the United States.
Pepine has been at the forefront of developing large, multi-center clinical trials related to heart disease.
The pinnacle of that effort to date has been an international mega-trial Pepine developed to determine how best to treat coronary artery disease patients with hypertension.
Pepine worked with colleagues in biostatistics to develop a computer-based system to conduct such a trial electronically via the Internet and secured $35 million in funding for this ongoing project, known as INVEST. So far, doctors at more than 800 sites worldwide have submitted data on more than 3,100 patients to UF via the Internet. UF has patented the system developed for this study to conduct pharmacologic research via the Internet.
Pepine also spearheaded the establishment of the Vascular Biology Working Group, where prominent cardiovascular researchers meet regularly with practicing cardiologists to keep them up to date on evolving basic and clinical research. Funding for this project surpassed $6.7 million in 1998-99. Pepine also has developed novel techniques to disseminate new research in the field in a timely manner, including a Web site (www.vbwg.org), which provides daily downloads from a review of more than 30 cardiovascular journals, as well as CD-ROMs.