Joseph L. Riley III, Ph.D.
Professor of Community Dentistry
College of Dentistry
2007 Awardee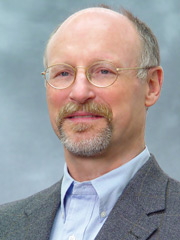 Joseph Riley's research interests focus on behavioral, emotional and cognitive responses to pain. His current research looks specifically at how those factors differ across social and ethnic groups, and the behaviorial differences that may be associated with oral health disparities.
"My early work demonstrated that the pain experience is complex and factors such as negative affective response are important components of pain treatment outcome," Riley says. Another important contribution of this work was to increase the focus on adaptation and behavioral response to pain.
He has also performed a series of studies documenting oral pain in community-dwelling adults.
"Pain is a commonly reported impact of oral disease and is more strongly associated with perceived need for care, actual dental care and diminished quality of life than other objective or subjective signs or symptoms," he says.
His community-based studies provide evidence that U.S. minority adults are at increased risk for orofacial pain and are less likely to use oral health services in response to pain.
"As culture can have a significant impact on the subjective experience of illness, differences in response to painful symptoms may help explain differences in behavioral options considered (or not considered) in response to oral disease," Riley says.
His current research, funded by a 5-year National Institutes of Health grant, targets Hispanic adults who have been particularly understudied regarding painful oral symptoms. Data collected thus far indicate that Hispanic adults are less likely to receive health care for orofacial pain than Non-Hispanic Whites or Blacks. Hispanics are also the most likely to feel that dentists view them negatively.
Riley's future community-based research will further explore cultural influences on orofacial pain by following a group of South Floridians. Another planned study will examine the increased risk of orofacial pain and decline in oral health in children and adolescents with sickle cell disorder.