Peter Stacpoole, M.D., Ph.D.
Professor of Medicine, Biochemistry and Molecular Biology
College of Medicine
2003 Awardee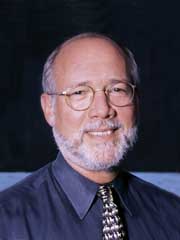 Peter Stacpoole is best known for his investigations of the chemical dichloroacetate, or DCA, which is used to treat lactic acidosis and diseases of the mitochondria, cell structures that produce the body's energy supply.
Stacpoole has gained new insights into mitochondrial diseases involving abnormal carbohydrate or lipid metabolism, notably congenital lactic acidosis – a rare, sometimes fatal, hereditary condition in which the body fails to metabolize glucose effectively. His initial clinical study using DCA to treat congenital lactic acidosis was the first to test an intervention of any type for a metabolic mitochondrial disease. Further trials in human patients are under way.
In addition, Stacpoole and UF colleagues are developing preclinical studies of gene therapy as a possible treatment for genetic mitochondrial diseases. Using the apparently harmless adeno-associated virus as a gene-delivery vehicle, researchers plan to give corrective genes to patients.
"The work I do is highly collaborative," says Stacpoole, who directs the UF General Clinical Research Center, funded by the National Institutes of Health. "Individuals at UF, as well as people in different states and different countries, have contributed fundamentally to whatever progress we've made with both DCA and understanding of mitochondrial diseases."A UF faculty member since 1980, he holds four patents, is chairman of the advisory committee for UF's Advanced Postgraduate Program in Clinical Investigation, has been on the admissions committee for M.D./Ph.D. candidates, and directs a Science of Clinical Research course he developed for junior faculty and others interested in careers in clinical investigation.