Nan-Yao Su, Ph.D.
Professor of Entomology
Institute of Food and Agricultural Sciences
2009 Awardee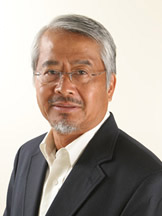 Nan-Yao Su is recognized internationally as an authority on termites and is known for his innovative approach for the management of their population. He authored and co-authored over 180 peer-reviewed articles on termite biology and control. His research results on the population ecology of subterranean termites and slow-acting toxicants led to the development of a monitoring-baiting system for population control of these cryptic pests. Commercialized as the Sentricon system, it has been marketed in 18 countries since 1995 to protect over two million homes. The system has also been used widely in historic monuments such as the Statue of Liberty, San Cristobal and El Morro, Puerto Rico, and Ft. Christiansvaern, U.S. Virgin Islands.
Due to its safety features, the Sentricon system received the Presidential Green Chemistry Challenge Award by the U.S. Environmental Protection Agency in 2000. Su has served as a consultant for the Hong Kong government to draft control guidelines for termite control, as an advisory member for the Termite Forum of the Ministry of Agriculture and Forestry, New Zealand, and is currently the chief technical advisor for the Chinese Environmental Protection Agency in their efforts to eliminate POPs (Persistent Organic Pollutants) for termite control in China. For his achievements, he received the U.S. Secretary of Agriculture's Honor Award for Individual Achievement in Research in 1996 and the Urban Entomology Award by the Entomological Society of America in 2001. In 2007, he was honored as the Distinguished Alumnus of the Year by the University of Hawaii, and was elected the Fellow of the Entomological Society of America. He is the recipient of the Distinguished Achievement Award in Urban Entomology 2008. In 2009, he established the Nan-Yao Su Award for Innovation and Creativity in Entomology of the Entomological Society of America.
Since the development of the Sentricon system, Su's research focus has shifted back to more fundamental aspects of termite behaviors. Recognizing the key to better control strategies lies in the understanding of termite foraging behavior, he has conducted a series of studies to examine the characteristic branching geometry of termite tunneling structures. Fundamental information on termite foraging strategies will also provide new target sites that can be exploited for novel and improved termite management technologies.