Arthur Teixeira, Ph.D.
Professor of Agricultural and Biological Engineering
Institute of Food and Agricultural Sciences
2003 Awardee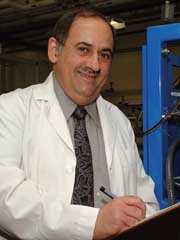 Art Teixeira has spent two decades seeking to improve the quality, cost and safety of canned food.
Teixeira has developed mathematical models which simulate the processing of canned food, allowing manufacturers to more accurately predict how the destruction of bacterial spores is affected by the way that heat transfers through the food.
The combination of time and temperature that results in the highest food quality while assuring a safe level of sterilization is called process optimization.
In the early days of process optimization, scientists would calculate the precise levels of time and temperature that would be required as the standard in the factory. However, the process only worked if factory conditions stayed the same. If variables like steam pressure and temperature in the pressure cooker changed, food safety would be compromised and the entire batch had to be destroyed.
Teixeira's programs calculate the amount of lethality in response to actual temperature-time conditions as measured in the cooker. These real-time controls won't allow the process to end until the required target lethality is achieved.
"That means that these types of control systems are capable of automatically extending the process time by the exact amount needed to compensate for an unexpected drop in temperature," Teixeira says. "They're capable of correcting the process so the product is always safely sterilized and never has to be destroyed."
During the past five years, Teixeira has published two book chapters and 24 refereed journal articles, while receiving a Fulbright Scholar Award and an International Distinguished Food Engineering Award.