Charles E. Wood, Ph.D.
Professor of Physiology
College of Medicine
2001 Awardee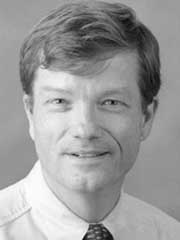 Physiologist Charles E. Wood has conducted groundbreaking research in animal fetal neuroendocrinology, investigating the mechanism by which the fetus, not the mother, dictates when gestation ends.
Specifically, Wood has focused on mechanisms that control the responses to stress in the fetus in utero and on the mechanisms controlling the timing of birth. While Wood aims to eventually identify intervention strategies that will enable the timing of animal births to be manipulated, he also hopes that the results of his research will one day be applicable to human births.
Wood has received numerous awards in recognition of his research endeavors, including the Faculty Basic Science Research Award. He is the chair of the AHA Southern/Ohio Valley Scientific Review Consortium and he sits on the editorial board of the American Journal of Physiology.
Wood is regarded as an "excellent and innovative" teacher who introduced a new approach to teaching medical cardiovascular physiology through the incorporation of small group discussions of gene-related cases. He is the interim chair of the College of Medicine's Department of Physiology.