Paul Zwick, Ph.D.
Professor of Urban and Regional Planning
College of Design, Construction and Planning
2004 Awardee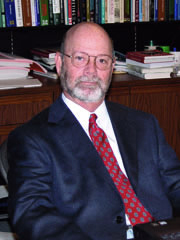 Florida schools, libraries, planning agencies and private corporations all rely on the Florida Geographic Data Library (FGDL) for geographic information system (GIS) data. And for the past five years, the FGDL has relied on Paul Zwick for the development of that data. Zwick, a professor of urban and regional planning in the College of Design, Construction and Planning, is the principal investigator of an environmental information system for the FGDL and the Florida Department of Transportation. Zwick is also the co-director of the GeoPlan Center, a GIS research and teaching facility at UF's College of Architecture. "Paul's in-depth understanding of the GIS database has allowed him to use it in many and varied areas," says Anthony Dasta, associate dsean of the College of Design Construction and Planning. Zwick has completed 10 years of research to identify and locate statewide greenway corridors, recreational trails and to develop methods for land-use planning. "I plan to continue to developing new techniques for analysis and design of dynamic models for geographic information systems," Zwick says.