Barbara Barletta, Ph.D.
Professor of Art History
College of Fine Arts
2002 Awardee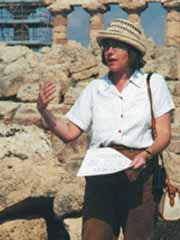 Barbara Barletta is consistently discovering ways to shed new light on old art. She has examined architecture from the sixth- and early fifth-century B.C. with cutting-edge technology, including ground-penetrating radar, aerial photos and satellite imagery.
Barletta focuses on the distinctive character of western Greek art. She emphasizes the relatively new study of regional distinction, analyzing subtle variations in the architecture and sculpture produced within individual city-states.
Since Barletta's second book, The Origins of the Greek Architectural Orders, was published in 2001 she has received a Scholarship Enhancement Fund Award and a National Endowment for the Humanities Senior Research Fellowship at the American School of Classical Studies at Athens.
Barletta is currently taking a sabbatical year to study temples of southern Italy and Sicily as research for a third book, tentatively titled Western Greek Temples: A Regional Approach. She says she hopes "to elucidate, for the first time, all of the evidence for temple architecture in Western Greece and to place the buildings within the context of the various regional components."