David H. Evans, Ph.D.
Professor and Chair of Zoology
College of Liberal Arts and Sciences
2001 Awardee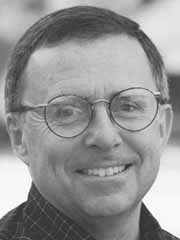 The gills of fishes do much more than just provide a surface for respiration in these aquatic vertebrates. David H. Evans has spent nearly 40 years studying the critical roles gills play in processes such as salt and water regulation, excretion of nitrogen waste and regulation of blood acidity. Because they are so permeable to salts and water, as well as oxygen and carbon dioxide, gills create "both problems and…solutions," Evans says.
Fifteen years ago, Evans began exploring how various substances can control the flow of blood through the gills. By borrowing techniques from the related field of cardiovascular physiology, he discovered that the regulatory mechanisms in fish gills are similar to those of the human cardiovascular system. Most recently, his laboratory has cloned a partial sequence of the gene for the enzyme nitric oxide synthase, which plays a critical role in many aspects of vertebrate physiology.
Evans' studies of these systems have important relevance for human health and disease. He has discovered that nitric oxide (NO) causes dilation of blood vessels in bony fishes and mammals but produces constriction in shark vessels. He suggests that this may occur because of NO interaction with superoxide radicals, which produces the extremely reactive peroxynitrite ion. This reaction is implicated in human diseases such as arthritis, Parkinson's and Alzheimer's diseases. As his research into these processes continues, Evans' findings may help lead researchers toward cures for these diseases.
Evans' research has been continuously funded by the National Science Foundation since 1970, as well as by the National Institute of Environmental Health Sciences and the American Heart Association. His extramural funding has amounted to nearly $3.5 million.
He is a valued teacher, as well as a superb scientist. His peer and student evaluations are consistently among UF's highest in both quality and quantity, as he teaches more than 500 students a year in his introductory biology course. Since coming to UF in 1981, Evans has received almost every award the university offers. These include the Outstanding Teacher Award for both the College of Liberal Arts and Sciences and UF (1991), UF Teacher/Scholar (1993) and the Florida Blue Key Distinguished Faculty Award (1994). He has been an Anderson Scholar Faculty Honoree every year since 1996. He also received the Sigma Xi Senior Research Award from the UF chapter in 1998 and was elected a Fellow of the American Association for the Advancement of Science in 1999. He was director of the Mt. Desert Island Biological Laboratory (Maine) from 1983 to 1992, where he has done research every summer since 1978. He is currently the chair of the Department of Zoology. He has published more than 200 refereed papers, abstracts and articles and his book, The Physiology of Fishes, has been called "the best single-volume general reference for fish physiology."