Robert J. Ferl, Ph.D.
Professor of Horticultural Sciences and Assistant Director of The Biotechnology Program
Institute of Food and Agricultural Sciences
1999 Awardee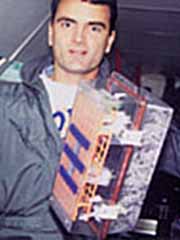 Rob Ferl is a molecular biologist who specializes in the molecular mechanisms involved in gene expression. As a professor in horticulture, he is an expert in the genetic responses of plants to harmful environments. His research program is centered around the structure of genes and the mechanisms of gene regulation. Results from his laboratory are widely published, and he is invited to lecture around the world.
Ferl's laboratory work is funded by grants from the U.S. Department of Agriculture (USDA), the National Institutes of Health and NASA, all of which are dedicated to elucidating how genes of living organisms respond to the world around them. His molecular studies in the laboratory have led him to such interesting places as the beaches of Costa Rica, where he helped pioneer the use of DNA sequence tags in the study of marine turtles, and the mid-deck of the space shuttle, where his genetically engineered plants are used to study gene responses to microgravity and space.
He also shared a USDA Secretary's Honor Award for his work in bringing genetically engineered crops to market.
Ferl is an enthusiastic and respected teacher, having received the Distinguished Teaching Award in 1984 and the Award of Excellence in Graduate Research and Education in 1994. He has written three widely regarded college textbooks for general biology audiences.
He has served in Washington as a member of NIH, USDA and NSF review teams, and he was Panel Manager for the USDA National Research Initiative in Genetic Mechanisms. He has also served on several editorial boards, most currently with The Plant Journal.