Yogi Goswami, Ph.D.
Professor of Mechanical Engineering
College of Engineering
2001 Awardee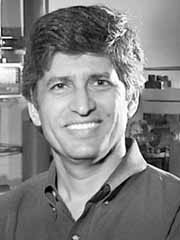 Yogi Goswami focuses his research on solar energy and energy conservation. Among his areas of expertise are heat transfer in soil and solar photocatalytic detoxification.
While other scientists have conducted research in photocatalytic oxidation for many years, "an important missing link between research and commercial applications is engineering, modeling and reactor development. I started that research at UF, which has already resulted in technology development and transfer to industry," Goswami says.
A device using his photocatalytic technology received the 1998 Florida Governor's Best New Product Award and the 1999 National Best New Product Award.
Goswami says his most recent research on solar thermal power conversion has been recognized by the engineering community worldwide and is an example of one of his philosophies – to "explore new and innovative ideas that solve practical problems."
While technically feasible, solar thermal power conversion has yet to become economically viable. Goswami recognizes that a fundamental breakthrough is needed to improve sun conversion efficiency at low temperatures. And he believes that a thermodynamic power cycle – expected to make low-temperature energy sources competitive in cost compared to electrical power – is the answer.
Goswami's plans for the future include continuing research on solar energy and mitigating global climate change problems. Goswami believes climate change will cause problems for the Earth in the next century and he hopes to "provide an opportunity for the University of Florida to become a leader in providing solutions to these problems."