Peter J. Hansen, Ph.D.
Professor of Animal Sciences
Institute of Food and Agricultural Sciences
2007 Awardee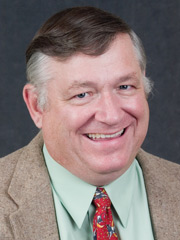 Animal science Professor Pete Hansen's research is focused on the biology of pregnancy and embryonic survival and using that information to develop approaches to improve fertility in livestock, especially dairy cattle.
In addition to developing novel strategies for improving pregnancy success during heat stress in dairy cattle, Hansen has made major findings about the immunological relationship between an embryo and its mother.
Hansen has conducted research into creating a more efficient reproductive cycle in cows during the summer months, when heat stress takes a staggering toll on successful pregnancies.
"The success rate on pregnancies drops to less than 10 percent during the summer months," Hansen says. "That's an incredible decline that leads to a seasonal shortage in the milk supply."
Cows begin producing milk after calving, so a drop in the number of cows becoming pregnant is followed by a drop in the number of cows that begin lactation.
"As a result," Hansen says, "during the summer, Florida dairies cannot meet the needs of the state for fluid milk."
Modern dairy cows have been bred for maximum milk production, but their higher metabolism also makes it difficult for them to rid themselves of excess heat, and high body temperatures make successful reproduction extremely difficult.
Hansen's research has found that embry-onic resistance to elevated temperature in cattle increases as the embryo matures, so that embryos on day three of the pregnancy are substantially more resistant than embryos at earlier stages.
Hansen and his colleagues have demonstrated that the effects of heat stress on dairy cattle fertility can be overcome by the use of embryo transfer. By growing a cattle embryo in the laboratory, then implanting it in a mother seven days after fertilization, Hansen has achieved pregnancy rates in heat-stressed cows of more than 40 percent, similar to rates during cool weather.