Marc Heft, D.M.D., Ph.D.
Professor of Oral & Maxillofacial Surgery
College of Dentistry
2002 Awardee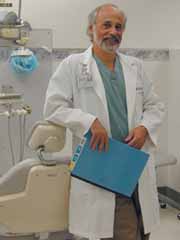 In looking at the health of older dental patients, Marc Heft's research has found that a person's age is not the only story.
A dental professor with "roots" both in pain and aging research, Heft pursues multiple research interests in gerontology, geriatric dentistry and pain perception. As the director of the Claude D. Pepper Center for Research on Oral Health in Aging, Heft investigates the factors that contribute to the oral health of older Floridians.
He has demonstrated that chronological age alone doesn't explain the level of dental health in older patients. Other factors – including disease, behavioral issues and environmental influences – combine to determine oral health.
His early work "clearly demonstrated that the belief of age-associated decline in oral health status was overstated, and that many healthy, older adults preserved most of their teeth over the lifespan," Heft says. Related research found that people lose very little of their sensory perception-their abilities of smell, taste and touch-as they age.
"In Florida alone, there are more than a million people over the age of 75, and they are a fairly healthy, vigorous population," Heft says.
Heft has been involved with the Florida Dental Care Study since its inception, looking at long-term changes in oral health and at the behavioral, attitudinal and socio-economic factors that can influence dental care and tooth health. "Wecontinue to analyze these invaluable longitudinal data and plan for future studies to explore further cultural differences [and] oral health in aging among Florida's diverse population," he says.
Heft also recently has begun collaborations with UF colleagues who are using brain imaging techniques to examine the mechanisms of fear, emotion, anxiety and pain.
Heft's work has been supported through the years by the National Institutes of Health, private foundations and industry.