Stephen Holland, Ph.D.
Associate Professor of Recreation, Parks and Tourism
College of Health and Human Performance
2003 Awardee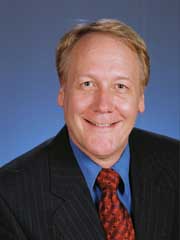 Stephen M. Holland, associate director of the Center for Tourism Research and Development, studies the economic impact of eco-tourism and nature-based heritage tourism on rural areas.
"Many small, rural towns that used to be centered around agriculture are now looking for rural tourism opportunities," says Holland, who is also an associate professor in the Department of Recreation, Parks and Tourism.
By helping rural land owners develop tourism in their areas, Holland helps promote a mutually beneficial relationship between the land owner and the tourist.
"Because there's so much urbanization today, many urban children are unaware where their food comes from," Holland says. "They've never seen orange groves or strawberry fields or the farms where chickens and cows live."
Holland also researches how people use natural and semi-natural areas recreationally to better understand their impact on the environment.
"Of the 50 to 60 million people who come to Florida each year, half engage in some outdoor recreation during their trip," Holland says, adding that his studies attempt to show how to sustain, promote and make recreation resources accessible, and also to understand why people select certain activities over others.
Because of Holland's past research, two-thirds of Florida's state park campgrounds have now opened their campsites to pets, and public beach access sites from the Georgia state line to Key West were mapped and entered into a state GIS database.
For the past 10 years, Holland has been one of seven social scientists from the Gulf of Mexico states serving on the Gulf of Mexico Fishing Management Council Socioeconomic Assessment Panel.