Lee McDowell, Ph.D.
Professor of Animal Science
Institute of Food and Agricultural Sciences
2001 Awardee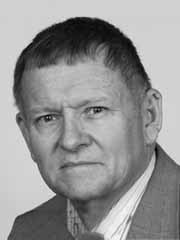 Lee McDowell studies how minerals, vitamins and other nutrients impact the health of grazing animals.
During the last five years he has developed feed analysis techniques for tropical and subtropical feeds; located and mapped areas that are deficient of minerals and other nutrients; and determined the phosphorous requirements of cattle. McDowell is also researching the availability of organic sources of copper and selenium for ruminants; the effects of high molybdenum-biosolids applied to pastures on copper status of cattle; and the use of vitamin E to counteract gossypol toxicity of cattle.
One of McDowell's primary research objectives currently is to determine if biotin supplements can help alleviate "fatty liver syndrome" and hoof problems in dairy cattle.
McDowell is a prolific author, with 420 publications since 1996. He was the senior author of a highly acclaimed extension bulletin titled Minerals for Grazing Ruminants in Tropical Regions that has been translated into four languages, and the sole author of a new 800-page textbook, Vitamins in Animal and Human Nutrition.
McDowell has received a dozen research grants totaling almost $880,000 during the last five years.
He also teaches two graduate courses and has served as major advisor to 13 graduate students in the past five years.