Robert McSorley, Ph.D.
Professor of Entomology and Nematology
Institute of Food and Agricultural Sciences
2001 Awardee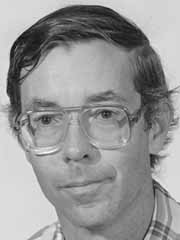 Robert McSorley is an ecologist who specializes in the management of plant-parasitic nematodes in agricultural systems. His research on nematode ecology is used to develop and improve sustainable, environmentally sound strategies for managing nematode pests, avoiding the more traditional focus on the destruction of such organisms.
"Importantly, he has attempted to discern how cropping practices can be used to keep nematodes from attaining high levels," says John L. Capinera, professor and chairman of the Department of Entomology and Nematology. "Unlike some of the 'quick-fix' approaches to nematode management, these projects have lasting value and are sustainable practices."
Most recently, McSorley has been working toward the improvement of non-chemical management methods such as the use of resistant plants, soil solarization and crop rotation. To do so, he works closely with scientists from a variety of related disciplines. His work emphasizing the compatibility of pest management methods with other agricultural practices is the subject of a recent grant from the U.S. Department of Agriculture.
McSorley has been the recipient of numerous awards, including the Honorary Member Award from the Organization of Nematologists of Tropical America in 1999 and has also served as president of the same organization. He has more than 100 journal publications, has been a member of several editorial boards and held positions as editor-in-chief at Nematropica and Annals of Applied Nematology. He has also been invited to present his research findings to scientific organizations worldwide.
McSorley is a dedicated teacher, mentoring students and serving as chair or co-chair for 7 graduate students thus far. He has developed several ecology courses and is co-author of a recently published textbook on agricultural ecology.
"Dr. McSorley is an outstanding citizen of the department, an excellent mentor for graduate students, a highly regarded instructor, successful at obtaining grants, an unusually good team player, and a prolific publisher," says Capinera. "Dr. McSorley provides an outstanding example of the robust program we desire from our leading faculty."