Brij M. Moudgil, Ph.D.
Professor of Materials Science and Engineering
College of Engineering
2002 Awardee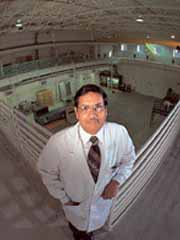 What do glaucoma treatments, silicon wafers, paint, pulp, pollutants, nanotechnology and paper recycling have in common?
They are all part of the varied and innovative work of Brij Moudgil, one of the newest members of the National Academy of Engineering. An international expert in particle science and technology, Moudgil's pioneering research has lead him from minerals processing and microelectronics to medicine.
Particle science, which examines the factors that bring particles together or keep them apart, has broad applications in many industries including minerals, agriculture, energy, pharmaceuticals, environmental engineering and food processing, says Moudgil, the director of UF's Engineering Research Center for Particle Science and Technology.
For example, work Moudgil and his colleagues did on a coating to improve the amount of bacteria and viruses that swimming pool filters are able to trap could help silicon chip manufacturers.
In polishing silicon chips, manufacturers use large quantities of purified water, which they then have to purify or distill in order to recycle it. The same coating that catches more than 90 percent of pathogens in swimming pools could be used to filter the water in the polishing process, lowering the cost of production.
In recent research into ink removal during the paper recycling process, Moudgil and a colleague were able to design a new technique to remove ink from paper that could substantially lower costs and reduce environmental impacts.
He holds a total of 14 patents, including seven that have been used in the development of new commercial technology for particulate processing.
Moudgil was elected a member of the National Academy of Engineering in 2002.
The academy cited Moudgil's professional leadership and his advances in mineral processing through innovations in coating research.