Lars Noah, J.D.
Professor of Law
Levin College of Law
2002 Awardee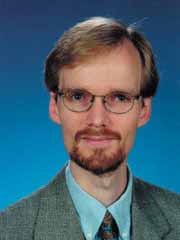 If Lars Noah's record to date is any indication, it won't be long before he achieves his goal of becoming the nation's leading expert in the area of law and medical technology.
In addition to a book on this subject that he recently co-authored with his wife and colleage, Barbara Noah, he has published more than three dozen scholarly monographs since joining the law faculty in 1994.
These articles have covered a wide array of topics, including product liability, food and drug law, administrative procedure, constitutional law, and law and science. His most recent work includes four manuscripts slated for publication this year, including Informed Consent and the Elusive Dichotomy Between Standard and Experimental Therapy, and The Coming Pharmacogenomics Revolutions: Tailoring Drugs to Fit Patients' Genetic Profiles.
Noah has been invited to lecture at some of the nation's most prestigious law schools, including Harvard, Stanford, Georgetown and Texas. He has served on an expert advisory panel for the National Institutes of Health and on a committee of the National Academy of Sciences' Institute of Medicine and on a working group of the Harvard Center for Risk Analysis.
"He is and no doubt will continue to be one of the law faculty's most prolific writers," say College of Law Dean Jon Mills.