Stephen J. Pearton, Ph.D.
Professor of Materials Science and Engineering
College of Engineering
1999 Awardee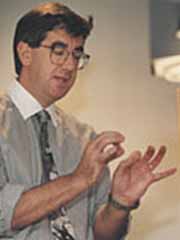 Steve Pearton develops new processing techniques for the next generation of semiconductor and magnetic storage devices. These devices are at the heart of the information age and form the "brain" of personal computers and microprocessors.
Pearton's group works on various plasma etching, ion implantation, ohmic contact, rapid thermal annealing and plasma deposition methods for miniaturizing electronic and magnetic components. Additionally, he is working on developing new semiconductor materials that will be capable of operating at much higher temperatures than existing silicon-based electronics.
Potential applications for these devices include electric automobiles, advanced aircraft and ships and control of electricity distribution on the power grid.
Pearton joined the University of Florida in 1994 after 10 years at Bell Labs. He has published more than 650 scientific articles in refereed journals, has 10 patents related to semiconductor process technology and is author or co-author of nine books. He is editor of the journal Solid-State Electronics, on the editorial board of two other journals and is a Fellow of the Electrochemical Society.