Desmond A. Schatz, M.D.
Professor of Pediatrics
College of Medicine
2002 Awardee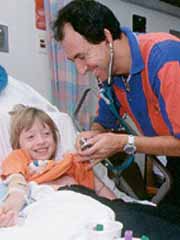 Desmond Schatz is one of the world's leading experts on type 1 diabetes. Last January the National Institutes of Health selected Schatz to oversee the University of Florida's role in a 14-center nationwide network that will study drugs to prevent type 1 diabetes.
The NIH awarded Schatz more than $2 million over the next seven years to establish and oversee a clinical trial center at UF as part of a group to be called TrialNet. Network institutions will work together to institute, design and carry out multiple trials using a variety of medications in diverse populations in an effort to find ways to prevent and delay progression of type 1 diabetes, which afflicts an estimated 1 million people in the United States.
The studies are expected to boost knowledge about the causes and development of the immune-system disorder, which occurs when the body's infection-fighting white blood cells attack the insulin-producing cells in the pancreas. "There's a growing incidence of type 1 and type 2 diabetes, which causes significant morbidity and mortality," Schatz says. "We've clearly got to stop it."
The research is an extension of the nation's first Diabetes Prevention Trial studies under way at UF and other institutions to determine whether insulin injections can be given to prevent type 1 diabetes in people at risk for developing it. Initial findings indicate that insulin injections do not work as a preventative measure, so other agents will be tested through TrialNet, says Schatz, who was principal investigator on the UF portion of the trial.