Richard Segal, Ph.D.
Professor and Chair of Health Care Administration
College of Pharmacy
1999 Awardee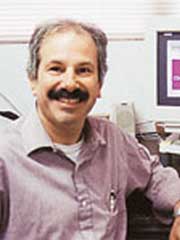 Richard Segal is widely recognized for his work in explaining why clinical practice is so often inconsistent with evidence-based best practices. During the past five years, Segal has led a research team that has developed and tested evidence-based clinical practice guidelines for managed care organizations in the private and public sector. These projects have resulted in one of the most successful research streams in disease management originating in academic pharmacy. An example of this work includes the development of innovative methods for implementing "best practice" guidelines for dyspepsia to improve patient outcomes and to reduce overall health-care costs.
Segal, along with other members of the DuBow Family Center for Research in Pharmaceutical Care, has also developed tools for implementing pharmaceutical care. The thrust of his research is aimed at detecting why preventable drug-related morbidity (PDRM) occurs and developing, implementing and evaluating interventions intended to reduce PDRMs. Their internationally recognized program, called Therapeutics Outcomes Monitoring (TOM), provides pharmacists with a system for detecting problem patients and guidelines for resolving the pharmaceutical problems experienced by patients.