Stanley Su, Ph.D.
Professor of Computer and Information Science and Engineering
College of Engineering
2000 Awardee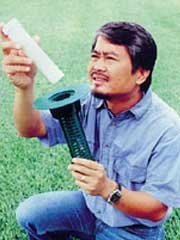 Stanley Su is an internationally known researcher in the field of database and knowledge base management, whose recent work aims to improve the speed and efficiency of e-commerce. His current project involves the creation of two web-based servers for businesses: a negotiation server to perform automatic negotiations for companies based on their requirements, limitations and preferred strategies: and an event and rule server to manage business events and enforce business policies and regulations. These are part of a larger project that, when completed, aims to integrate multiple companies' resources in conducting e-commerce.
Su has already made important contributions to the manufacturing industry by leading the development of the Integrated Manufacturing Data Administrative System (IMDAS). IMDAS allows the exchange of information among the wide variety of systems involved in the manufacturing process, such as robots and machine tools. Since its creation, numerous members of the manufacturing industry have adopted IMDAS, and the Association for Computing Machinery has listed it as one of the five leading systems of its kind.
The products of Su's work in the last five years form the core technology of the research and production of more than 40 industrial companies and universities participating in four national projects supported by the National Institute of Standards and Technology and the Defense Advanced Research Projects Agency. Su also directs the Database Systems Research and Development Center at UF, a program that attracts students from all over the world.
In addition to his research, Su serves in numerous leadership and consulting positions outside UF. He is one of the editors-in-chief of the prestigious Journal on Very Large Data Bases, as well as an associate editor of the International Journal on Computer Languages, the International Journal on Information Sciences and the Asian Journal of Business and Information Systems. He has also served as editor of the IEEE Transactions on Knowledge and Data Engineering, the IEEE Transactions on Software Engineering and the Journal of Parallel and Distributed Computing. Su has published one book, 10 book chapters and more than 150 refereed journal and conference papers.
Last year the IEEE elected Su a fellow for his work supporting integrated manufacturing, along with his many other accomplishments. In 1996, he received a Professorial Excellence Program Award from the College of Engineering. He was also recently awarded special recognition for his services as a trustee and the treasurer of the Very Large Data Bases Endowment.