Adam Veige, Ph.D.
Professor of Chemistry
College of Liberal Arts and Sciences
2017 Awardee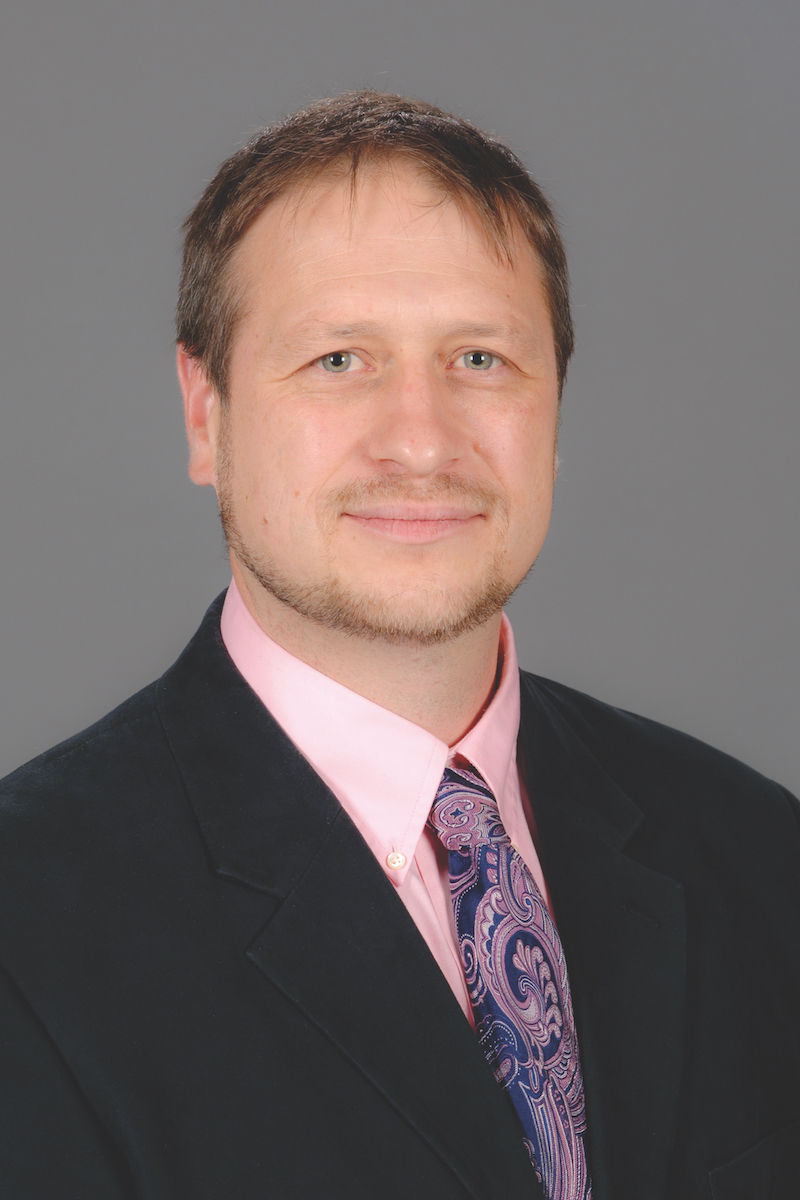 Adam Veige is interested in the design, synthesis, isolation and characterization of new inorganic molecules and their use in catalysis and materials chemistry.
"As a child I enjoyed playing with Lego, and still do," Veige said. "Lego requires you to imagine a three-dimensional object in your mind and then build it using a limited set of building blocks. Synthetic chemistry is very similar."
Veige's main research centers on the creation of highly reactive metal complexes for use in catalysis. Veige's recent discovery of a catalyst that creates cyclic polymers is a noted advance for polymer chemistry. Cyclic polymers have dramatically different properties compared to their linear analogues, but are challenging to manufacture.
"Molecules are constructed by linking molecular building blocks and atoms to create complex structures," Veige said. "In my research group, we manipulate at the atomic scale to create reactive molecules capable of performing unusual reactions or that can be applied in creating unique materials."
"In a way, my job is really just an extension of my Lego playing days," Veige said.
Veige and his lab are also working on creating materials that emit white light efficiently by exploiting a reaction they discovered termed Inorganic Click, or "iClick."
Another area of research the Veige group works on is the development of metal complexes capable of selectively targeting cancer cells. One such project has been the use of gold complexes to kill leukemia cells.
In addition to his academic achievements, Veige has emphasized the importance of research dissemination and practical application. His ligands, or molecules that bond to a central metal atom, have been marketed by Strem Chemicals Inc., one of the leading suppliers of commodity and specialty inorganic and organometallic compounds. His focus on communicating science to the public is especially exemplified in the UF Center for Catalysis Chemistry Day at the Mall, now in its 11th year. The Chemistry Day at the Mall was created as a long-term partnership between researchers, university students and local businesses to increase the visibility and attractiveness of the chemical sciences to the public and future scientists.
Veige received the UF Outstanding Mentor of Undergraduate Research Award, and was named CLAS advisor of the year. He was also the recipient of the Professor Paul Tarrant Fellowship. Veige has authored over 70 publications to date.