Philip J. Williams, Ph.D.
Professor of Political Science
College of Liberal Arts and Sciences
2009 Awardee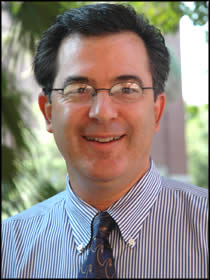 One of the principal areas of Phillip Williams' research has focused on democratization in Latin America, particularly with the relative importance of structural factors, institutional legacies, and elite decision-making in shaping democratic transitions. Another central theme of his research has been the relationship between religion, politics, and society in Latin America. Williams directed a major three-year comparative study that examined the way that different forms of Christianity help Latin Americans understand and respond to the forces of globalization in Latin America and the United States.
Complementing these efforts, Williams spearheaded a new interdisciplinary initiative to promote the study of Religion in the Americas from a hemispheric perspective. Building on his successful study of religion and social change in Latin America and among Latino communities in the United States, Williams directed the Rockefeller residential fellowships program (1999-2003) entitled, "Religion in the Americas: Constructing Self, Community, and Nation in the Age of Globalization." The Rockefeller grant brought together faculty in the social sciences, humanities, and fine arts to support a three-year program of visiting fellows and artists, in addition to a lecture series and final conference.
Since 2001, Williams has led a related initiative focusing on religion and transnational migration. Along with Dr. Manuel Vasquez (Religion), Williams was engaged in a three-year study of religion and transnational migration in Florida. The collaborative research project brought together researchers in the United States and Latin America to explore systematically the challenges that immigrants from Latin America face as they settle in places that have only recently been affected by large-scale immigration. The three most salient challenges that were identified for Latin American immigrants in new destinations in Florida are the struggle to form community and encourage collective political mobilization, the effort to negotiate local, national, and transnational spaces and livelihoods, and the need to experience religious life, both intra and extra-institutionally.
Currently, Williams is co-directing the second phase of the research project that explores the multiple roles religion plays in shaping interethnic and interracial attitudes and relations, as well as immigrant incorporation and collective mobilization in metro Atlanta, an area that has experienced a dramatic growth in its Latino population in the last decade. In view of the current debates about immigration, comparative and interdisciplinary research on a hyper-growth area for Latinos that explores the relationship between new immigrants and their host populations will have significant policy implications.