Thomas J. Wronski, Ph.D.
Professor of Physiological Sciences
College of Veterinary Medicine
1999 Awardee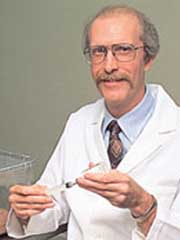 Thomas J. Wronski is widely recognized for establishing the ovariectomized rat as a suitable animal model for postmenopausal osteoporosis, a bone disorder that afflicts millions of elderly women. Wronski and co-workers showed that surgical removal of the ovaries from rats results in estrogen deficiency and adverse bone changes that are strikingly similar to those of postmenopausal women. His validation of this animal model served as a foundation for studies by numerous investigators of the pathogenesis and treatment of postmenopausal osteoporosis.
In studies funded by NIH and pharmaceutical companies, Wronski has used the ovariectomized rat model for preclinical testing of potential new treatments for osteoporotic women. He found that a class of drugs called bisphosphonates and the hormone calcitonin can serve as an alternative to estrogen for the prevention of bone loss during estrogen deficiency. Other studies by Wronski and co-workers have focused on the ability of parathyroid hormone and basic fibroblast growth factor to stimulate bone formation and restore lost bone to normal levels in the estrogen-deficient skeleton.
Wronski has also been involved in studies of the skeletal effects of space flight. Wronski is a member of the External Advisory Council for the National Space Biomedical Research Institute and is on the editorial board for the journal Bone.